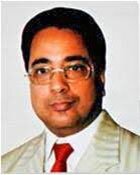 It is a matter of great pleasure announcing that Multiple Educational & Man Power Development Trust (MEMDT) has put in a lot of effort in setting up BIHM &BITM. It fulfils a long outstanding requirement of development of the students in the domain of Management & Technology and also in Hospitality, Tourism and Hotel Management.

I am very happy there is an accelerated progress of the institution primarily due to the quality of training being imparted by the team of dedicated faculty and interaction with Corporate Houses, I express my sincere, thanks to MAKAUT (Formerly known as West Bengal Institute of Technology (WBUT) & AICTE for approving all of our UG &PG Degree Courses.
I also thank the District Authority, West Bengal Government Education Department, University of Technology, Distinguished Persons and Faculty members who have helped us to realise our dream of taking our Institutes to greater heights.

Regards,

N. R. Datta
Chairman & Managing Trustee
Camellia Group
- MAKUT (WBUT)
- MAKAUT EXAM
- WBSCTE
- AICTE
- NPTEL
- NPTEL (Online Courses)
- UGC Job Portal
- CAMELIA GROUP
- AIKYASHREE
- KANYASHREE
- OASIS (ST/SC/OBC)
Bengal Institute of Hotel Management, Santiniketan
(a unit of Camellia Group)
BITM & BIHM Campus,
Santiniketan-Sriniketan Bypass, Gopal Nagar, P.O: Doranda, District-Birbhum, Pin-731 236.
+91 90070 30109
+91 94341 80638
---
©2018 Bengal Institute of Hotel Management, Santiniketan | All rights reserved.
Design & Developed by

Suyrashakti Infotech Pvt. Ltd.