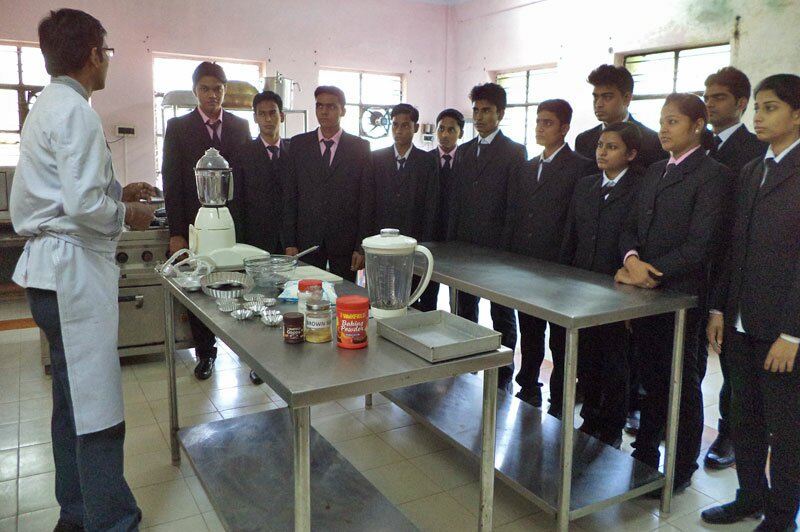 Food Production & Patisserie. It is said that we eat with our eyes, nose, mouth (tongue) and stomach, and a chef has to not only make the food edible and palatable, but he has to take care of the eye-appeal and gastronomic values of each item. This department deals with the preparation, production and presentation of foods from different cuisines from all over the world. Knowledge of the multitude of ingredients used to prepare items from different cuisines, their nutritional values, effects of different cooking methods of each ingredient – all are discussed in details to the students in our mind blowing practical classes in food production lab.
Each student is given ample opportunity to apply the knowledge and transfer it to multi-dimensional skill in preparing and presenting a large cross-section of Indian and International Cuisines in the practical sessions. Layout of kitchens and the allied sections, the vast range of tools and equipment, costing, budgeting as well as nutrious value of the food and overheads, etc. are also taught in details with the students handling real-life case studies. Creativity of students gives them a front seat in the working of this department.
Students who aspire to develop as Chefs are encouraged to display their skills in veg./ice-carving, bread-making, cakes, pastries and confectionary items etc. during the training session as well as several Food Festivals and Functions held every year. Our students eager to participate also in various Out Door Catering (ODC) programmes for imparting their skills and knowledges learned from their own house of academy.
- MAKUT (WBUT)
- MAKAUT EXAM
- WBSCTE
- AICTE
- NPTEL
- NPTEL (Online Courses)
- UGC Job Portal
- CAMELIA GROUP
- AIKYASHREE
- KANYASHREE
- OASIS (ST/SC/OBC)
Bengal Institute of Hotel Management, Santiniketan
(a unit of Camellia Group)
BITM & BIHM Campus,
Santiniketan-Sriniketan Bypass, Gopal Nagar, P.O: Doranda, District-Birbhum, Pin-731 236.
+91 90070 30109
+91 94341 80638
---
©2018 Bengal Institute of Hotel Management, Santiniketan | All rights reserved.
Design & Developed by

Suyrashakti Infotech Pvt. Ltd.