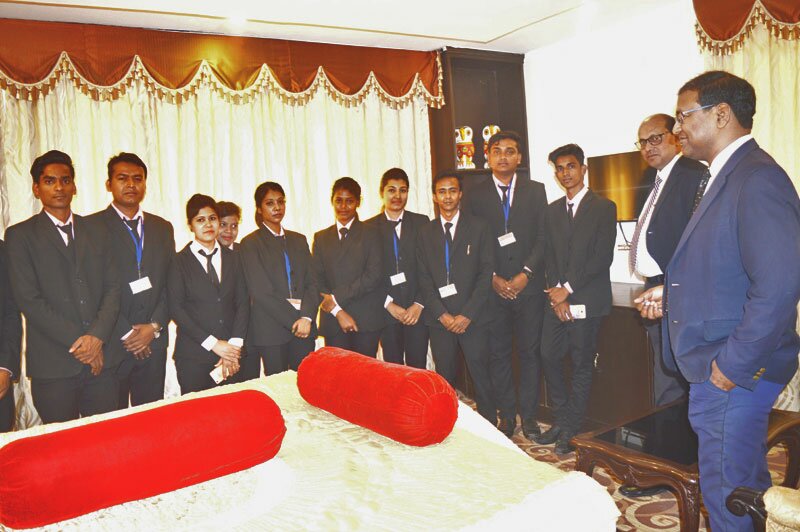 Moving from one's home, a traveller probably first looks for the peace and safety which he is already used to while at home. Just getting a small roof on his head may not suffice to give him/her that sense of tranquil rest. The Housekeeping Department is considered as the hub of any hotel and, naturally, becomes at the Institute-level also. The cleanliness and maintenance of all public areas in both back and front of the house, the rooms and the cloak rooms, the health clubs and the cabanas - none of this looks appealing without the constant care and vigil of this department. The students are given hands-on training in cleaning different areas with a vast range of surfaces on floors, walls and furniture and fixtures. The complex management of guest's laundry, uniform of all members of staff and the multitude of linen and guest-room supplies are integral part of the syllabus.
The students are also trained in the aesthetics appealing of flower arrangements and its decorations to create a scenically attractive environment all around. Students are also trained about the cleanliness and aesthetic upkeep of the mock room as well as class rooms with all modern equipment matches the best standards in the industry.
- MAKUT (WBUT)
- MAKAUT EXAM
- WBSCTE
- AICTE
- NPTEL
- NPTEL (Online Courses)
- UGC Job Portal
- CAMELIA GROUP
- AIKYASHREE
- KANYASHREE
- OASIS (ST/SC/OBC)
Bengal Institute of Hotel Management, Santiniketan
(a unit of Camellia Group)
BITM & BIHM Campus,
Santiniketan-Sriniketan Bypass, Gopal Nagar, P.O: Doranda, District-Birbhum, Pin-731 236.
+91 90070 30109
+91 94341 80638
---
©2018 Bengal Institute of Hotel Management, Santiniketan | All rights reserved.
Design & Developed by

Suyrashakti Infotech Pvt. Ltd.