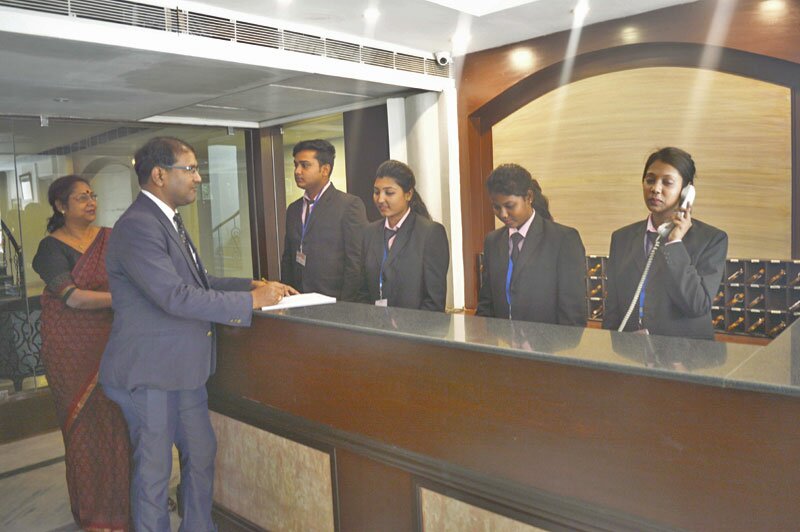 As the name suggests, this is the show-window of a hotel and similar establishment as the guest enter. The facade is no less important than any other departments – it can make first impression at the first opportunity. Prim and proper, and yet warm and friendly, the staff of the department makes a guest feel at home immediately upon his arrival. As the nerve centre of a hotel, Front Office Department associates with selling of main product of any Hotel Organization i.e. rooms with reservations, advance bookings, walk-in guests, handling of guest and his/her financial transactions, even though spontaneous source of information and solving of unaccountable problems and quarries of guest as well as their requests etc. for ensuring a steady and smooth turnover. This department also gives the organization its largest share of revenue than the other departments.
Students are given hands-on training on all aspects of Room Division Management. The latest Property Management System that is followed almost all over the world has been installed to enable the students to keep pace with the changing patterns of property management. Spacious audio-visual lecture halls with facilities for simulation have been created to ensure effective training.
The department is proud of its massive computer lab with individual work stations which facilitates individual attention while the students acquire the mastery in operating the universal system.
- MAKUT (WBUT)
- MAKAUT EXAM
- WBSCTE
- AICTE
- NPTEL
- NPTEL (Online Courses)
- UGC Job Portal
- CAMELIA GROUP
- AIKYASHREE
- KANYASHREE
- OASIS (ST/SC/OBC)
Bengal Institute of Hotel Management, Santiniketan
(a unit of Camellia Group)
BITM & BIHM Campus,
Santiniketan-Sriniketan Bypass, Gopal Nagar, P.O: Doranda, District-Birbhum, Pin-731 236.
+91 90070 30109
+91 94341 80638
---
©2018 Bengal Institute of Hotel Management, Santiniketan | All rights reserved.
Design & Developed by

Suyrashakti Infotech Pvt. Ltd.